Floating Contact Form Portlet
Terug Order Management voor Internationale Supply Chains
Beheer zowel de opbrengst als het risico van wereldwijde inkoop en productie met een gesynchroniseerde toeleveringsketen.
Het beheren van internationale supply chains heen kan ingewikkeld en tijdrovend zijn. U wilt een logistieke partner met oog voor detail die ervoor zorgt dat uw producten probleemloos over de hele wereld reizen om hun markten te bereiken. Onze experts kunnen de complexiteit binnen uw supply chain vereenvoudigen met haalbare oplossingen zodat het process gestroomlijnd verloopt.
Ongeacht de grootte van uw bedrijf, of u nu werkt in de wereldwijde inkoop, productie of distributie, Kuehne+Nagel kan u helpen. KN International Supply Chain is onze wereldwijde end-to-end process mangement service waardoor uw supply chain kan optimaliseren. We kunnen de beschikbaarheid van uw producten optimaliseren om ervoor te zorgen dat ze snel en volledig in overeenstemming met de regelgeving op de markt komen. U hebt toegang tot realtime gegevens over voorraadniveaus, uitgaande bestellingen en productretouren, zodat uw orderbeheersysteem niet alleen uw kosten beheert, maar ook inkomsten genereert en de klanttevredenheid verhoogt. Of u nu een op zichzelf staand project heeft of een volledige end-to-end beoordeling van uw processen nodig heeft, onze teams staan klaar om u te ondersteunen.
Uw voordelen:
Verbeter de complience door leveranciers en vervoerders door middel van gestandaardiseerde processen, scorecardrapportage en analyse van oorzaken
Maak gebruik van ons Order Management Platform KN ESP om de productbeschikbaarheid en klantenservice te verhogen door verbeterde leveranciersprestaties, optimale routering en indicatieve aankomsttijden: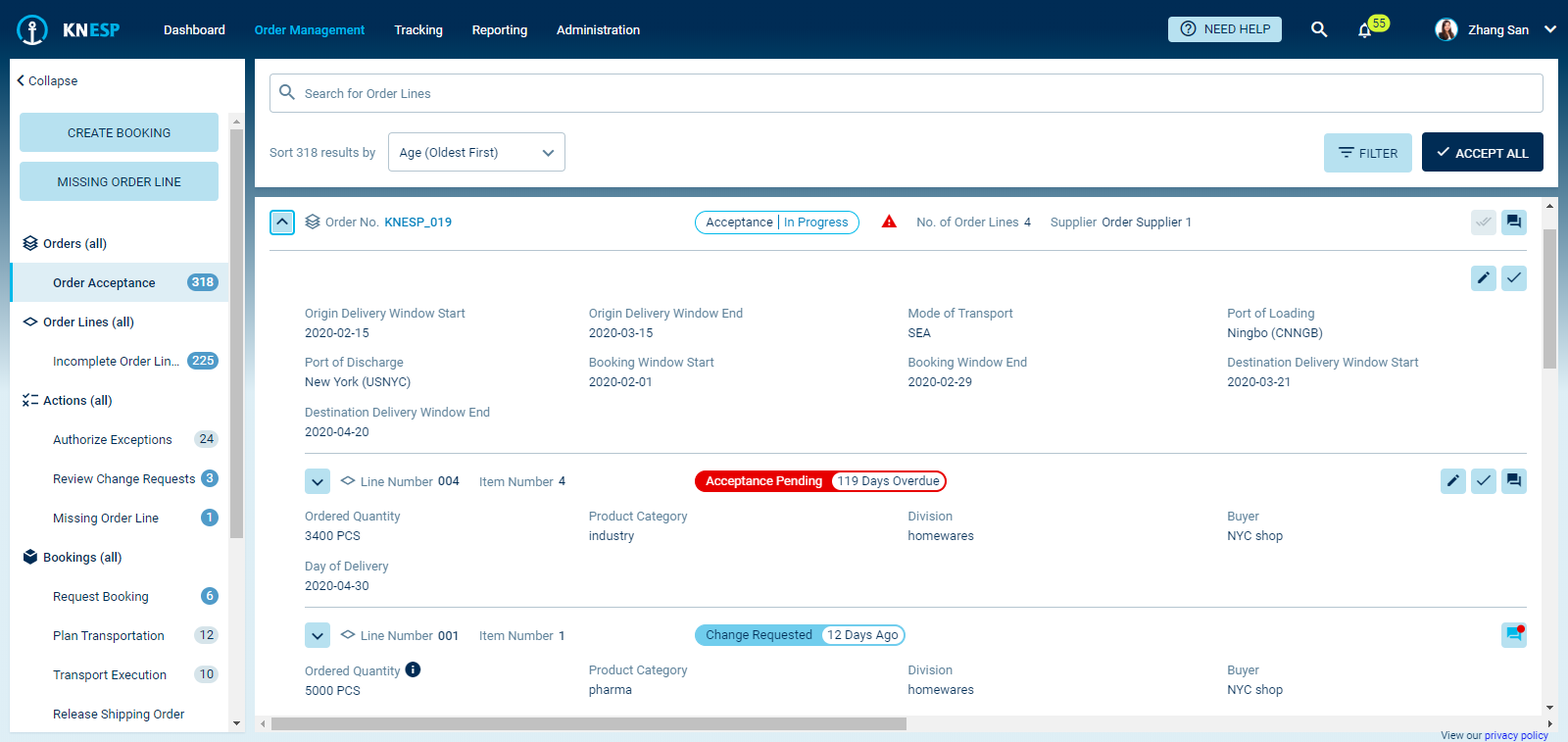 Reduceer uw transport kosten door optimaal gebruik te maken van containers en de doorlooptijd te managen
Verhoog de omzet door de product beschikbaarheid, klanttevredenheid en time-to-market te verbeteren
Houdt het overzicht m.b.v. proactief verstoringsbeheer welke uw zendingen in realtime bewaakt en indicatieve aankomstijden biedt.
Meer weten? Neem direct contact op met onze experts.